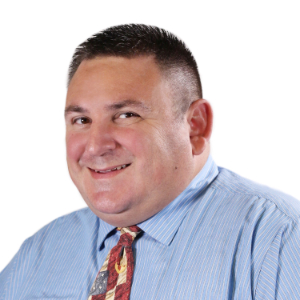 I was born in Belleville, New Jersey, but moved to Troy, Michigan when I was six weeks old.  In 1983, my dad was transferred from GM headquarters to Packard Electric, in Warren.  I graduated with honors from John F. Kennedy High School in Warren in 1994 and attended Bowling Green State University.
At BGSU, I began as a journalism major, but transferred to communications, specifically radio.  I served as the news director of our two campus radio stations, WBGU-FM and WFAL-AM.  I also hosted several radio shows, among them "Chris and Christina in the Morning," "Radioactive with Hank and Chris," and "Front and Center."  One of my favorite BGSU radio memories was hosting a town-hall meeting with our new University President.
While still in college, I got a job with Jacor Toledo (now iHeart Media) as a radio producer.  I worked mostly weekends at WSPD-AM 1370, WVKS-FM 92.5, and WRVF-FM 101.5.  I produced Detroit Tigers games, talk shows, and other programming.  The spring before I graduated, I left Jacor and took a job with Venice Broadcasting as an overnight disc jockey on WXKR-FM 94.5 (94.5 K-ROCK at the time).
Upon graduation from BGSU, I moved to Defiance, Ohio and became the news director of WDFM-FM 98.1.  I worked my way up, taking on morning show co-hosting duties, as well as becoming the assistant to the general manager.  Our station was purchased by Jacor, and I became operations manager of "Mix 98.1," handling programming, music selection, and other duties as well as still co-hosting my morning show.  Jacor became Clear Channel, which purchased three other area radio stations and clustered them.  I became the Director of IT for WDFM, WONW-AM 1280, WZOM-FM 105.7, and WNDH-FM 103.1, still hosted my morning show and did a midday show on WONW.
In 2001, I was looking for a change and moved back to Warren.  I was planning to transfer with Clear Channel to their Youngstown, Ohio cluster, where I would work in IT and engineering.  Unfortunately, my position did not come to fruition, and I was without a job.  It was time for my first career change.
I took a job as the Director of Communications for the United Way of Trumbull County.  In this role, I was responsible for all aspects of our communication, including public relations, media relations, promotions, the design of marketing and campaign materials, website creation and maintenance, and donor communications.  Additionally, I called on select accounts to assist with fund-raising campaigns.
I really enjoyed this work, so much so that when I saw the position of Executive Director of the United Way of Williams County (back in Bryan) open in 2005, I jumped at the chance to move back to NW Ohio.  No longer just involved in the communication aspects of the organization, I was responsible for everything — board development, finance, funds distribution, marketing, resource development/annual campaign, strategic planning, and administration.  In short, I was the "face" of United Way in Williams County.  I loved working for United Way and got involved with our national organization as well.  In my time at UWWC, I helped to raise nearly $1.8 million for our neighbors in need.
During this time, I also became the sports director and play-by-play broadcaster for Bryan Municipal Utilities.  I cover Bryan Golden Bears sports for our local access TV station, something that I have done since 2006.
In 2010, I felt a calling for another career change.  After much prayer and reflection, I decided to leave United Way and take a position as a junior high and high school teacher at Fountain City Christian School in Bryan.  I really loved teaching in that small-school environment, with the ability to share my faith and build relationships with students and parents.  I taught for two years, but financial constraints and lowering enrollment led to my contract not being renewed.
I was once again at a crossroads, so I took some time to discern what I was really interested in doing.  During that time, I was a substitute teacher in the Bryan City School District.  I saw an opportunity online for a national professional development trainer, so I applied.  After six months worth of learning myself, I was certified as an Apple Professional Development specialist and hired by TRECA, an Ohio ITC.
At TRECA, I worked both as a trainer on our Apple contract and as an advisor to our online school.  I traveled all over the country for Apple, training hundreds of teachers on iPads and Macs.  I loved the work.  In 2014, I went full-time as a PD specialist.  In addition to working with Apple, I helped to develop online content for teachers.  In 2015, TRECA merged with another ITC called MEC to form META Solutions.  I continued in my role as PD specialist until June 2016 when I was laid off due to budget constraints.
During this time, I also became the Athletic Director at St. Patrick Catholic Church in Bryan, a role which I held until 2021.
Only July 5, 2016, I started work as an Educational Technologist with the Northwest Ohio Computer Association (NWOCA), an Ohio Information Technology Center with member school districts throughout the state, but primarily in NW Ohio. In this role, I help teachers, administrators and students integrate technology into our schools.
Along with my son, I formed a business in 2021. Malanga Enterprises, LLC provides video and audio production, live streaming and other technical services.
I have been married to my wife, Nikki, since 1999. We have three children and reside in Bryan.